US Bridge journey 2010
This background to this site is a journey in 2010 by me (Olof) and my daughter following in the footsteps of a grand-father/grand-grand-father who travelled from Gothenburg, Sweden to the US to work as a civil engineer. He travelled to the US ca 1911 (first photo from Allentown is from Feb 1912) and returned to Sweden in 1917 (last photo from Lawrence is from 1917).

Map on the left is clickable where violet pins are historic bridge sites that appear in my grandfather's album. Blue pins and lines show the route taken in June 2010. Pins with dots have associated links.

He was born in Nälden/Näskott socken in Jämtland 1886 where his parents owned the inn (gästgiveri). He graduated from KTH, STockholm as a civil engineer in 1908. The following is an excerpt from 'svenskt porträttgalleri' 1911:
We don't know much about the details of his life in the US, since as far as we know all relatives from that time are no longer alive. His only living child is my mother, born 1926, who knows little about his motives and life in the US.
We also assume that most photos are taken by him, but we don't really know. We don't even know how he was involved in the bridge projects, but as a civil engineer we assume he was working with the construction. He shows up in only a few photos, one is on the eighth street bridge.
He left behind a photo album that we have gone through and started scanning and placing on the web. There are approximately a hundred photos, most showing details of bridge building, but a few are of scenic nature, and some souvenirs and postcards. On some pictures people show, mostly of people who in some way are associated with bridge construction. There are essentially no personal photos.
The text below each photo are his own notes. The first three locations below are of special interest, these are the largest sites where we think he worked actively. In the many other photos we are unsure of whether he was actually active or just documented interesting sites.
The best photos are from market street Chattanooga and eight street bridge in Allentown.
The album contains ca 60 pages of pages similar to this one: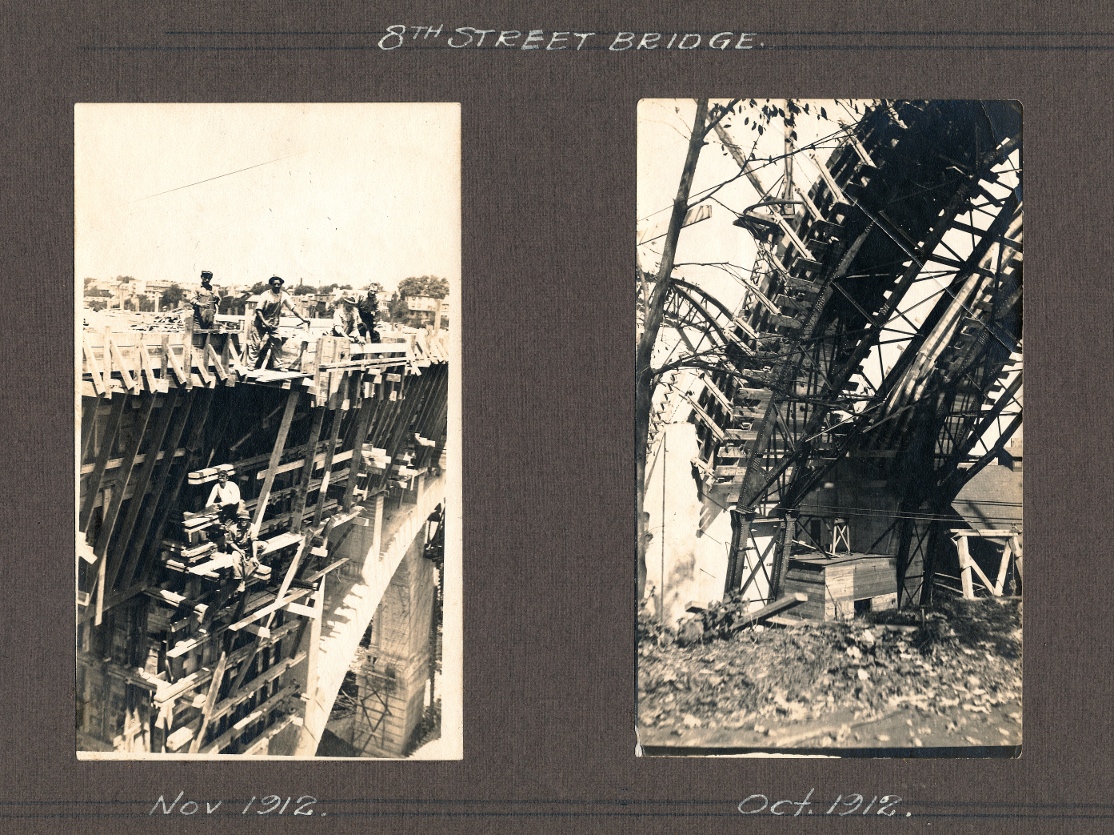 Sites
Click for more info
List of all locations
We have just scanned a fraction of the photos. This is the complete list of locations.
Whitehall building, NYC
Custom house and bowling green, NYC
Subway work, Canal St, NYC
Penn Station, NYC
Forest Hill, Long Island, NY
East river tunnel, NYC (Airlocks)
Highway bridge, Ashokan, NY
Ambursen dam, Watervliet, NY
Power plant, Hauto, PA
Cement mills, Egypt, PA
8th street bridge, Allentown, PA.
Penn st bridge, Reading, PA (over Schuylkill river)
Old steel bridge, Reading, PA
Girder bridge, Wales, PA
Main st bridge, Betlehem, PA
Hopatcong lake, NJ
Market street bridge over Tennessee river, Chatanooga, TEN.
Central bridge over Merrimac (Joseph W Casey), Lawrence, MA
Park bridge, Akron, Ohio
Bridge over Miami River, Columbus, Ohio
Potomac canal bridge, Washington DC
Seventh st bridge, Lynchburg, VA
Market st bridge, Cumberland, MY
Theodore Roosevelt Dam, AZ (postcard)
Reference
---
Olof Hagsand 2010
Contact me at olof

hagsand.se.